Description
Transportation and Logistics Management Education Through Our Freight Broker Training Guide
Our Freight Broker Training guide is unmatched in the online training industry because it is rooted in our history in the industry and in professional training. This Freight Broker Training Guide is also used for training as a Freight Broker, Freight Agent, and Freight Dispatcher. like load board access, transportation database, license filing service and we sell our broker courses for half of the price.
As you know the great part of the Freight Broker industry is that you can work for someone else or work for yourself. You also have the option to work in an office or work remotely, so the opportunities are endless and can fit any lifestyle!
Through over 15 years in the transportation industry, we have developed not just an easy to understand self-study freight broker training course but a transportation network for you to jump-start your freight brokerage career. We cover all these topics in our training guide. You will be ready to enter this rapid-growing transportation industry and always use our guide as a resource in the future.
Freight Broker Training Guide Covers:
Freight Broker/Agent job description
Setting up your business
Becoming a freight broker
Members roles How to find shippers (customers)
Contacting Shippers
Shipper Cold Call Script
Paperwork between broker & shipper
Approve a shipper for business
Calculate a freight shipment rate
Locate trucks to move your loads using load boards
Make sure a carrier is legal & reputable
Calculate the rate for the truck
Paperwork between broker & carrier
Load Tracking
Billing & Payment
Step by step guide to freight movement
Factoring
Incoterms 2013 – ICC Official Rules
CSA2010 – New
UCR – Unified Carrier Registration
Smartway & CARB Compliant Carriers
MAP-21 Rules for Freight Brokers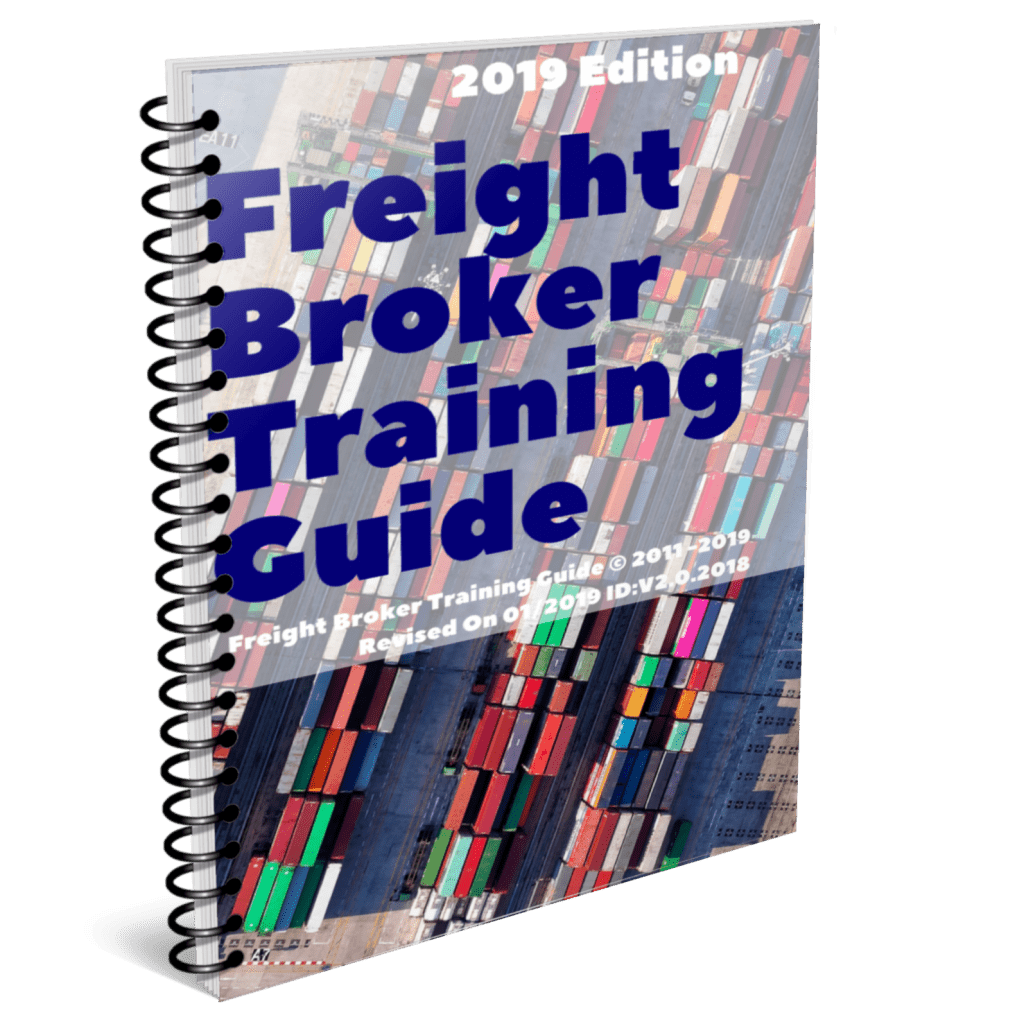 Our Training Guide Prepares You For The Freight Brokerage Industry
We de-mistfy the Freight Brokerage Industry! Pair our comprehensive freight broker training guide with our online tools you will be far ahead of your peers who have taken broker training courses elsewhere. Enroll with a friend and SAVE! We allow you to share your bona fide course materials.
The transportation industry has it's own terms just like any other industry. If you can't blend in or understand what a trucker is talking about when he says he's hauling a reefer trailer or he's over on his tandems you'll have a difficult time in this market until you're familiar with the terminology. How much weight can a trucker legally have on his tandems do you know? Or on his steering axle? Or what is considered bad states and locations to send a driver because it will be difficult to find them a load out of that area and they will have a lot of deadhead miles to get to a more profitable location.
This is the type of on the job information we include into our Freight Broker Training Guide, to prepare you for everyday situations like this in the logistics industry, and in a demanding "spot market" industry these tools will give you the competitive edge to make quick decisions that will earn you better profits.