The Process for Becoming a Freight Broker/Freight Agent
Step #1: Get Training
The first step is to buy our freight brokers training course and read the materials to get a better understanding of what a freight brokers does and learn about the trucking & transportation industry. Also our FAQ page has helpful information before you get started. There is NO EXAM required to become a freight broker. Some "schools" suggest there is. Not true. Any exam is their internal exam, not an official government entrance exam. School is not required, but training is necessary if you plan on succeeding and making money in the brokerage industry.
Step #2: Setup Your Business
After you have a better understanding of the fright brokers training program, you will need to take the first steps in setting up your business, which includes registering as a DBA or Incorporating. You will need this completed first so you can receive your Employee Identification Number (EIN) in order to complete the application to file for your freight brokers license. Our training guide will show you which business type is best for you to setup. You can choose our licensing package and we will complete the process for you.
Step #3: File for your license
You are now ready to submit your application to the Federal Motor Carrier Safety Administrations to apply for a freight broker license. There are 3 forms in total you need to submit to the FMCSA. The first form is for Authority form OP-1. The FMCSA charges $300.00 to apply for operating authority. The second form is the BMC-84, which is used to provide proof of a surety bond or trust fund for $75,000. The third form is the BOC-3 form that is used to have a legal agent in each of the 48 continental states to receive legal process. This form has a $50 filing fee. You apply for your License or Authority online, and will receive your MC number in minutes. The process can be confusing, that's why our license filing service is included in our package.
Step #4: Put Your License to Work
After you receive your license from the Department of Transportation (DOT), you can immediately use our Transportation Directory Database to contact potential shippers that currently use freight brokers and send them rate quotes and your company packet sheet. Your course comes with samples forms and documents that you can edit to send out. You will also be able to immediately use the FindFreightLoads.com load board to post freight and search for carriers.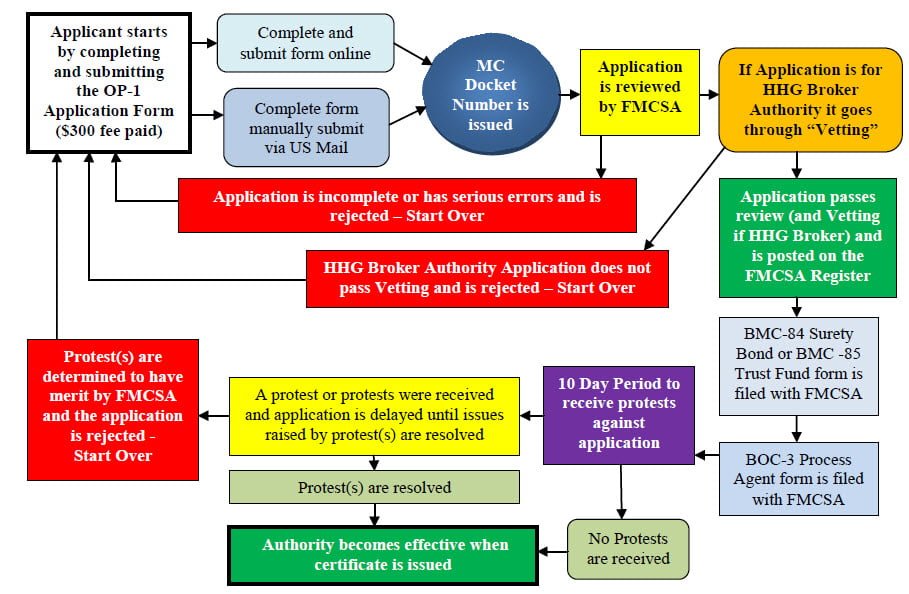 Our freight broker training package has the BEST VALUE in the online broker training industry, because we give new students many tools that other online broker courses do not offer, and we sell our broker courses for half of the price. FREE load board and FREE License Filing.
Online Logistics Training with Results
The transportation industry has it's own 'lingo'. If you can't speak the language or have any idea what a trucker is talking about when he says he's bob-tailing or he's over on his tandems you'll have a difficult time in this business until you're familiar with a lot of the terminology.
How much weight can a trucker legally have on his tandems do you know? Or on his steering axle? Or what is considered bad states and locations to send a driver because it will be difficult to find them a load out of that area and they will have a lot of deadhead miles to get to a more profitable location. This is the type of on the job information we compile into our course, to prepare you for every day situations like this in the logistics industry, and in a demanding "spot market" industry these tools will give you the competitive edge to make quick decisions that will earn you better profits.
How We Prepare You for the Freight Brokerage Industry